The Maryland Judiciary is implementing several procedural changes to streamline and improve the handling of fee waiver requests. The changes are the result of new rules which have been adopted by the Court of Appeals.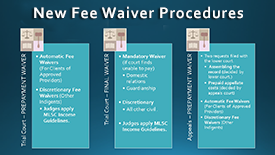 Enlarge
The following links provide additional information to aid you in implementing the new procedures.
Questions: If you have questions about implementing the new procedures or the rules, please contact Pamela Ortiz, Dir., Access to Justice Dept., AOC, at 410-260-1258.