Entries are now being accepted.
In celebration of National Conflict Resolution Day, October 15, 2020, the Maryland Judiciary's Mediation and Conflict Resolution Office (MACRO) is accepting bookmark designs for its 15th Annual Conflict Resolution Day Bookmark Art Contest. The contest is open to all Maryland students in kindergarten through eighth grade.  
Winning students and their families will be invited to a virtual awards ceremony, January 2021 via Zoom, where Maryland Court of Appeals Chief Judge Mary Ellen Barbera will "present" the awards.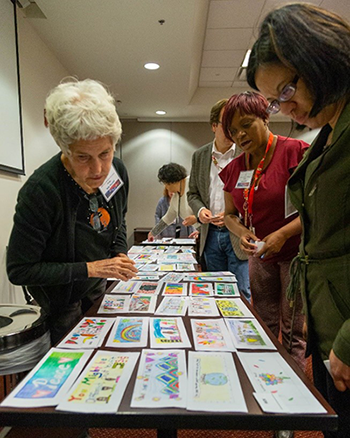 Grade Levels and Judging Criteria:  Art will be judged in three categories based on grade level: kindergarten through second grade; third through fifth grade; and sixth through eighth grade. Submissions will be judged on artistry, creativity, and message.
Prizes: The following prizes will be awarded for each category: 

1st Place: Winner will receive $100.00. 
2nd Place: Winner will receive $75.00.
3rd Place: Winner will receive $50.00. 
Several of the winning entries will be printed and used to promote conflict resolution across Maryland. Winners whose bookmarks are selected for printing will receive copies of their own printed entry.
To Enter, Follow These Steps: 
Step 1. Download the form and fill it out.
Step 2. Save it.
Step 3. Print it.
Step 4. Draw your creation on the template.
Step 5. Scan or take a readable picture of the 2-part entry form and the template. Save it with your first and last name in the file name
Step 6. Upload your pdf, png, or jpeg file.  Or mail your Entry Form to us using the address on the form.
Please be sure to complete all of the information on your Entry Form and that your artwork fits within the box on the template. If submitted electronically, please keep your original artwork in a safe place until the winners have been announced.
Theme: Subject matter of your art should reflect a conflict resolution or prevention theme, such as peer mediation, talking things out, apologizing, respecting differences, solving problems together, listening, diversity and inclusion, peace building, or other alternatives to violence. To see images of past winners, visit:  mdcourts.gov/macro/eventsconflictresolutiondayarchive.
Deadline: All submissions must be received by Friday, November 13. 

Please email cheryl.jackson@mdcourts.gov or call 410-260-3540 with any questions. 
By submitting a bookmark entry in this contest, you give the Maryland Judiciary permission to use the artwork in any future public awareness materials promoting conflict resolution.