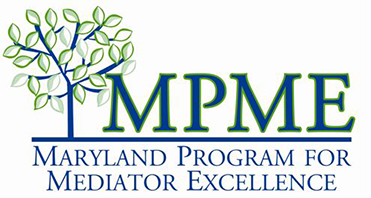 The Maryland Program for Mediator Excellence (MPME) assists Maryland mediators, from all venues and all mediation frameworks, in delivering high quality mediation services by providing support to member mediators for continual growth and skill improvement.

One of the unique features of the MPME is how it was created and maintained by and for the full spectrum of Maryland's dynamic mediation community, with the Maryland Judiciary Mediation and Conflict Resolution Office (MACRO) serving as its Steward. Although Maryland is not the first state to focus on mediator excellence, the emphasis on collaboration, on achieving consensus, and on an integrated approach to quality improvement assistance makes Maryland's experience a singular one.

The MPME provides members with the opportunity to develop a customized quality assistance plan in topic areas where they most need to advance their own growth and skills. They can start with any skill area and move in a direction and at a pace that makes sense for them. The basic requirement is that they advance their skills. 

Member Commitments

When a mediator becomes a member of the MPME, a commitment is made to:

(a) complete eight (8) continuing skills hours annually;
(b) complete two (2) hours of ethics training annually;
(c) abide by the Maryland Standards of Conduct for Mediators as adopted by the MPME; and
(d) to cooperate in good faith with the Mediation Ombuds program.

Consumer Benefits: If you're looking for a mediator, the MPME maintains a public directory of mediators who may be able to help you in your conflict or dispute.

Any mediator may choose to list themselves in the MPME directory, and those who have taken the additional step to join the MPME as full members are also affirming their commitment to you to keep advancing their skills, maintain ethical standards of practice, and seek to resolve any disputes that may arise from their practice by engaging with the Mediation Ombuds Program.

 

 

Questions about the Program

The MPME is coordinated by MACRO. To learn more about the program or to find a mediator using our directory, please visit our website, www.mpmeonline.org.  For questions about the program, please contact Ellie Haight, Program Manager, at 410-260-3540 or mpme@mdcourts.gov.