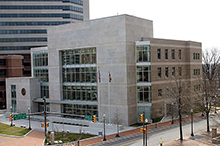 Welcome to the District Court of Maryland for Montgomery County located in Silver Spring, MD.
The District Court hears landlord/tenant cases, replevin actions, traffic violations, criminal cases classified as misdemeanors and certain felonies, and civil cases in the amount of $30,000 or less. The District Court does not conduct jury trials.
Hon. Sherri Koch
​​​​​Administrative Judge
Kathy Hefner
​​​​​Administrative Clerk
Julie Gray
​​​​​Administrative Commissioner

General Information: 301-563-8500  | Toll-free Number (In-state only): 1-866-873-9785
TTY users call Maryland RELAY: 711

The courthouse is located at 8552 Second Avenue, Silver Spring, MD 20910-3364. No food or drink are permitted in this building. For assistance with special needs, contact the court immediately.
General 
Take I 495 to Georgia Ave take the Washington DC ramp, go to Cameron Street, take a right continue 2 blocks to 2nd Ave. The Court is diagonal on the left.
Bus Information
Routes 1-5, 8, 9, 11-20, 22, 28
https://www.montgomerycountymd.gov/dot-transit/
Metro Bus Routes 70, 71, F4, J1, J2, J3, J4, J5, Q2, S2, S4, S5, Y8, Z's
https://www.wmata.com/service/bus/
MTA Bus 929
MARC Train Brunswick Line
https://mta.maryland.gov/marc-train 

Available in public lots. Click here for public parking options.

On April 4, 2022, the Maryland Judiciary returned to normal operations exiting the
five-phased COVID-19 resumption of operations plan.