(410) 535-1600 ext. 2268 or 2404 or (888) 535-0113
Please see our Differentiated Case Management Plan for all matters except criminal.
Our Civil Department deals with a large variety of cases. Please feel free to call or visit our office with any questions or concerns. Except for in certain family law matters (see Domestic/Family Law), there are not many forms available for use in circuit court by self represented parties. A list of forms can be found here.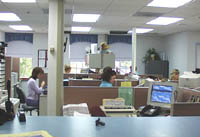 REQUIRED: Non-Domestic Case Information Sheet
If you are not a lawyer and you are choosing to represent yourself in a civil matter, please see information for self-represented litigants.
Our Change of Address/Personal Information form may be printed from here for your convenience.
This form is to correct a name or update an address on an existing case. Please note that this is different from a Name Change (a case in which you are changing your legal name).
Civil cases can not be expunged, however, information regarding expungements can be found here. Learning what can be included or excluded from public information can be very confusing. The Maryland Judiciary's website has some helpful tools to help you understand what your options are.